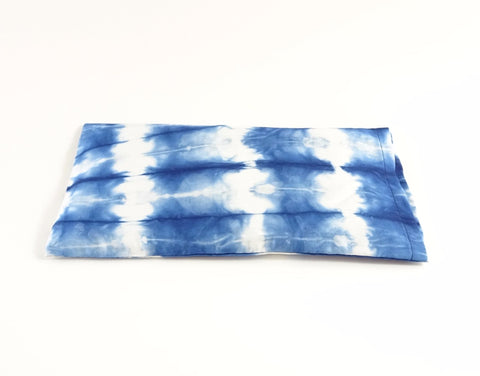 Bamboo Eye Pillow - Harmony
Eye pillows can help you relax or ease tension headaches.  Place over eyes and brows and feel the gentle weight calm and soothe you.  Use for relaxation, after your work day, while travelling, during mediation or yoga savasana.
Our 100% cotton inner pouch is filled with flaxseed  for a fragrance-free eye pillow or  lightly scented with dried lavender.  The separate removable outer pouch is made with our 100% bamboo sateen and  is hand-dyed.  The bamboo is softer than cotton, breathable and cooling to the touch, allowing the eye pillow to gently form to your face. 
Can be used at room temperature or cooled.  To cool, place inner flaxseed filled pouch in freezer before re-inserting into outer pouch.
Harmony eye pillows' blend light and indigo hues in striking combinations. Each is one-of-a-kind and patterns and colour tones can vary from the photos.
Size:  4 3/4 " x 8 1/2" / 12 cm x 21.6 cm; Weight: 8 oz
Fill:  Flaxseed; lavender
Inner Casement: 100% Cotton
Outer Cover: 100% Bamboo
Available in unscented or lightly lavender scented
Outer Cover Washing Instructions: Hand wash or machine wash with lingerie bag in delicate cycle, cool water.  No harsh chemicals or bleach.  Hang to dry.
Made with care and love by Serica Home in Toronto, Canada.
---
We Also Recommend
---